Quick Information
Understanding Icons
Icons are shown when you are on your profile. There is the edit icon and the visibility icon.
Edit Icon
By selecting on the edit icon, you will be redirected to the appropriate page to edit the information of which the icon applies.
Visibility Icon
By hovering over the visibility icon, it will show who is able to view the following information. You are able to adjust the visibility when you edit the information.
Understanding Your Dashboard
When you are on your profile, you are able to view the performance for the last 30 days, and view your profile strength indicator that shows how searchable your profile is.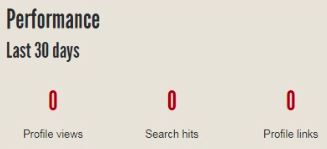 Profile Views increase when a user logged on and viewed your profile.
Search Hits are the number of times your profile has been listed on any search.
Profile Links COMING SOON will be the number of links there are to your profile.

This indicator shows how searchable your profile is. The more information included on your profile relates to a higher profile strength.